Our Services
Today, 63 physicians, all board certified by the American Board of Radiology, provide a full range of imaging services including, general diagnostic, musculoskeletal, interventional, neuro-interventional, vascular, breast imaging, neuroradiology, cardiothoracic, pediatric and nuclear medicine. Many of our physicians have additional training in highly specialized vascular and neurovascular specialties.  For example, Dr. Efstathios Spinos, at HCA's Chippenham Hospital, is the region's only accredited Neurointerventional physician who performs Wingspan Stent for blockages in arteries of the brain. Furthermore, in addition to directly caring for patients, many of our physicians conduct research within their areas of expertise and are leaders in their field. A physician will always oversee your care at Radiology Associates of Richmond, whether they are providing one-on-one consultation, performing procedures, reading results of imaging studies or conferring with your referring physician to ensure you receive comprehensive care.
Hospitals Served
Radiology Associates of Richmond partners with these central Virginia hospitals:
Outpatient Imaging Centers Served
Our History
Radiology Associates of Richmond has a long and distinguished history, dating all the way back to 1905. That's when Dr. Daniel Talley, Jr.—a pioneer in radiology and alum of the Medical College of Virginia—installed the x-ray equipment of the day in his practice and established what was to become Radiology Associates of Richmond. This was just 10 short years after Wilhelm Conrad Röentgen discovered x-rays (then called röentgenograms), forever changing the face of medicine and earning him the first Nobel prize in physics in 1901.
In 1909, Dr. Talley opened a radiology office at the original Johnston-Willis Hospital at 6th and Franklin Streets. After World War I, Dr. Lawther J. Whitehead joined Dr. Talley, where he practiced until his death in 1959. Dr. Talley's son, Daniel D. Talley III, also a physician who trained at the University of Pennsylvania Hospital, subsequently joined Radiology Associates of Richmond and began recruiting physicians trained in the latest radiological techniques.
Today, Radiology Associates of Richmond has 55 physicians and eight physician assistants and nurse practitioners. We partner with nine community hospitals, four free-standing emergency centers and four outpatient imaging centers in central Virginia.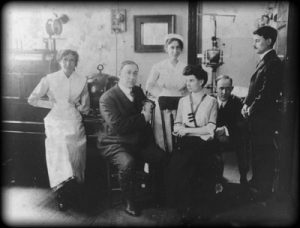 After the World War I, Dr. Lawther J. Whitehead joined Dr. Talley, and the two practiced radiology together until Dr. Whitehead's death in 1959. By then, Dr. Talley needed help with the practice, and he was joined by his son. Dr. Daniel D. Talley III had trained at the University of Pennsylvania Hospital, which was in the forefront of the practice and teaching of radiology. The younger Dr. Talley recognized the growing demand for high-quality radiology services, as well as the need for up-to-date radiology practice disciplines in the Richmond medical community. He began recruiting physicians who were formally trained in the latest techniques in the field. As a result of his foresight, Radiology Associates has become the leading provider of radiology services to the medical community in central Virginia.
Founders
| | | |
| --- | --- | --- |
| | | |
| Dr. Daniel Talley Jr. | Dr. Lawther Whitehead | Dr. Ennion Williams |